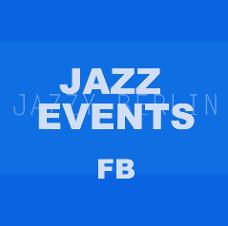 BERLIN MUSICIANS WELCOME GUIDE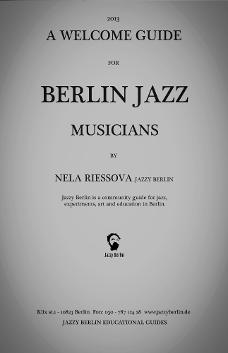 JAZZ SOMMER FEST
My favorite recommendation from our Friday mail is: Bergmannstraßenfest 2017

It's always nice to go there, I like this city corner of Berlin.

June 30 – July 2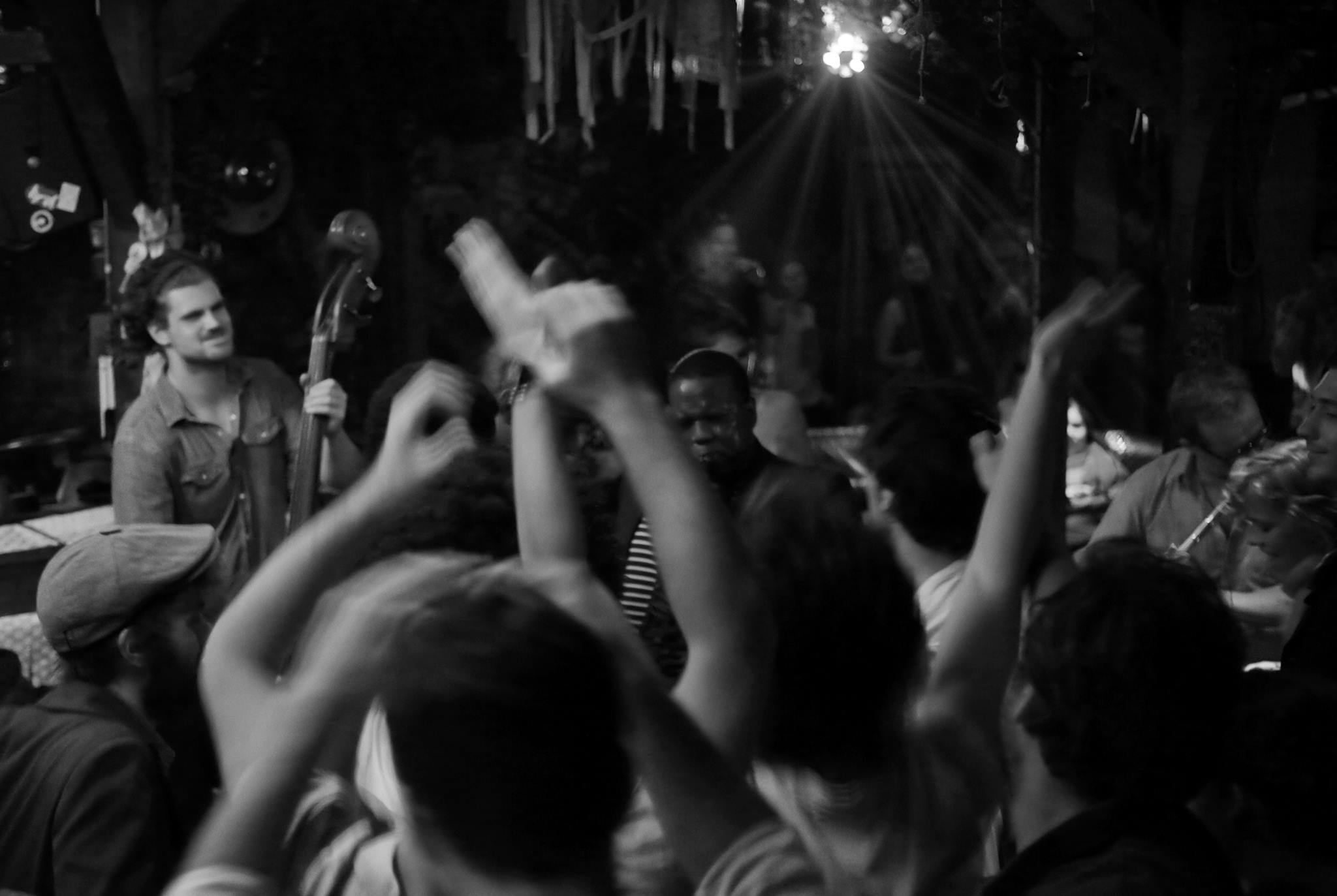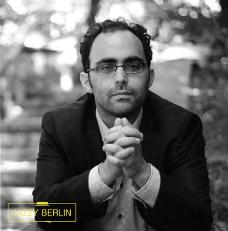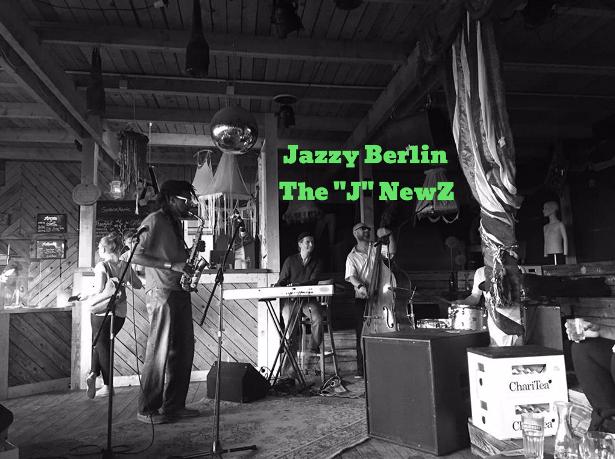 MR. ''J'' NEWS by a. Albers Ben Chamo
04.07.17
Remember
The Date 13.08.17 The First ''Jazzy Day'' Festival Jazz In The Sky
We are working on it, and the idea is to show case the hottest bands on the scene at Jazzy.
LISTENERS, Musicians, PHILOSOPHERS, fashioners, dreamers and lovers are
welcome
.
More information will come soon but mark the date.
Send us a mail
if you like to join
the opening exclusive party with Jazz, free Falafel and Couscous on the roof.
THE BANDSTAND
you locas catzzz.
bass. Tom Bekman
drum. Aidan Löwe
piano. Doron Segal
Special Guest. Dustin Drews. Alto
watch out!
1.08.17
The New Sensory Percussion Revolution and on the most beautiful way to Touch The Heart Of The Listeners.

By Avi Albers Ben Chamo
Not every day you have a chance to be a part of a revolution, something that in one stroke will change the lives of more than a few. I'm talking about the new Sensory Percussion, the ability to divide your drums skin into a different area of pitches but this time with multi-effects options, chords, and harmony. So what is so revolutionary here? well, drummers now can ''revenge'' us all band members, and start having individual concerts. The same a lot of singer-songwriters do today by using the RC 505 Loop Station, (like Masego does).
But what about the listeners?
Well, I can see the excitement on the drummer's faces. But before that, I should say that after 5 years of running a jam session, the biggest appreciation from listeners comes from a bigger shared effort. For example, if it's a group that makes you move, you have now 4 or more people to gratitude for their efforts. I know that some will say that also one person performance can make you happy. And I must agree with them. But it's all come down to the effort you put into your playing. In this case going for a solo concert only with your drums, will be harder. Harder - more effort - more gratitude. But before you use Sensory Percussion you need to ask yourself: Can I tell my audience a story? Can I be sensitive enough to their feelings, can I surprise them, make then happy? If yes, you can add anything to your story.
28.06.17
NY Bassist Omer Avital surprise
appearance

at Jazzy Berlin jam
A nice surprise yesterday at Jazzy Berlin Jam session The international NY bassist Omer Avital came and played a great solo with our local bandstand. Omer Avital is visiting Berlin, playing with the local mandolin musician Avi Avital on the show: ''Avital meets Avital'' (under Deutche gramophon). Omer began playing in groups with Roy Haynes, Jimmy Cobb, Nat Adderley, Walter Bishop, Jr., Al Foster,Kenny Garrett, Steve Grossman, Jimmy Lovelace, and Rashied Ali. Text from Wikipedia. Our camera captured the moment, the sound is not perfect, I know, but the energy is right there.
The New Jazzy Berlin Jam Session experience Video by Jazzy Berlin
27.06.17
Jazzy Boys, Join In.
So who is on today on Jazz B Jam? A strong bandstand, with different colors, ideas and passion. Let it be Sharp. On the bandstand we have today: bass Giuseppe Bottiglieri; drum Aidan Löwe; piano Doron Segal; Special Guest Dustin Drews. alto sax. Watch Dustin tell his story without words.
According to 18:55 - 65 people are attending - most of them are Jazzy girls. Jazzy Boys, please join in! Photo by Anton Tal Jazzy on the Roof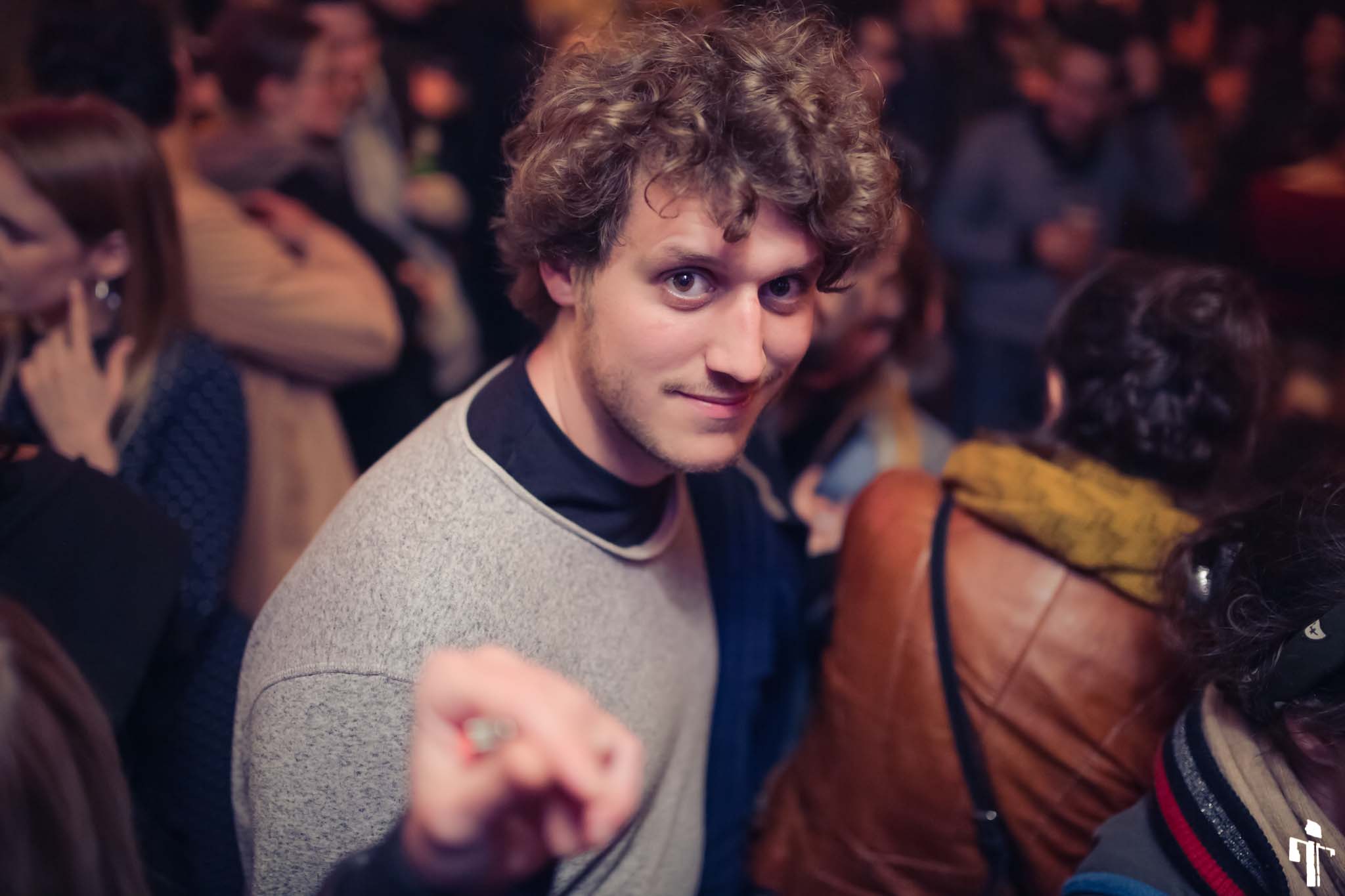 26.06.17
My First Big Mistake
By Avi Albers Ben Chamo
My first encounter with Dussmann Kulturkaufhaus was to meet the boss and to tell him ''I would like to save Jazz from disappearing''. It was also my first mistake. Don't talk - Do. It took some time, six years and a little more, but yesterday I got a mail:

The album "Tales From A Forbidden Land" by Jazzy Berlin Artist of the Year - Eyal Lovett is one of the five current favorites of the Kulturkaufhaus Dussmann in Berlin. Proceed Photo by Sophie Albers Ben Chamo at Dussmann Jazz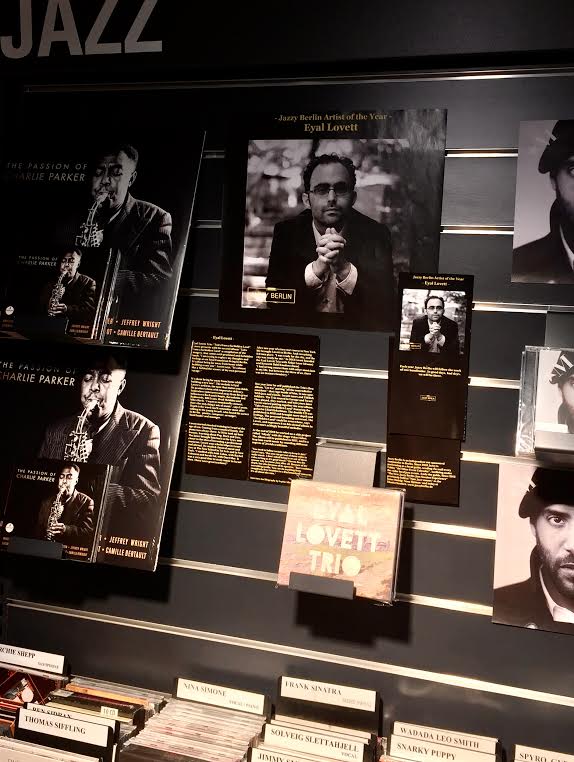 Focus Speaking So You Can Simplified Your Musical Gift
By Avi Albers Ben Chamo
Friday 23.06.17 (from Jazzy Berlin weekly mail)
I don't know if it's happened to you: you are having a conversation with someone, and he tells you that he don't understand you. You know all the ABC' letters, you read books, you are eager to know or learn about different topics in life, but still. He keep telling you, you are mumbling - I don't understand what you are saying! you go home, like me, frustrated, asking why.

And what if you are a musician? and you also cannot speak clear, can you still ''say'' something with your instrument? something that other people will remember, something that will touch the others, or you don't have a chance? There is so much information about how to play right, and too less about how to speak right. Yesterday my friend was laughing about me, ''avi, you can read million books from amazon. But here is your chance, all you need to do is just to listen to one sentence of your favorite musician, one sentence! And this one sentence will teach you all you need to know''. Jazzy Berlin Community mail
Photo: Jazzy Berlin archive by Anton Tal