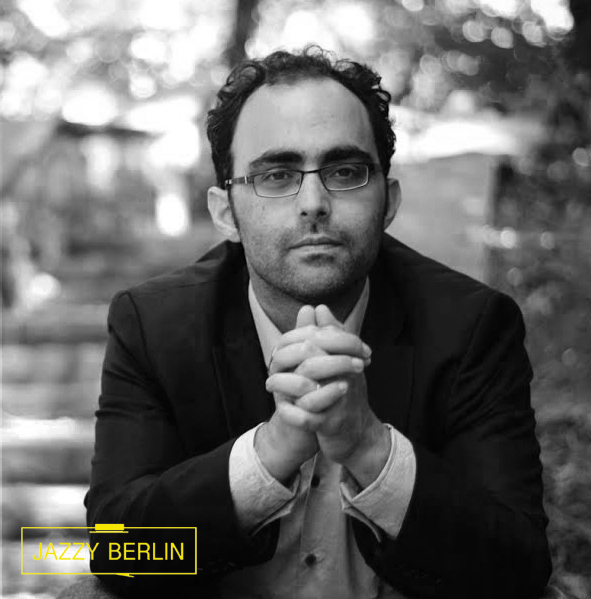 Upcoming Concerts:
2nd March, 2017, 21:00
B-flat, Berlin
Eyal Lovett Trio
Tales From a Forbiddan Land
Eyal Lovitt

- Artist of The Year -
Eyal Lovett
Each year Jazzy Berlin will follow the work of one bandleader. In good days, bad days. W
e will be there
.
It's about being far away from home while building a new one"
Portrait. The melody is Eyal Lovett's artform, the tune that makes you think. He produces them with impressive delicacy. Somewhere inbetween and away from his great influencers Bach and Chopin, Barenboim and Rubinstein, Bill Evans, Brad Mehldau and Miles Davis. "I want to emotionally connect, that's the only thing I ask of music", says Lovett. Depth is the word you'll remember most after talking to the young Israeli, who found his career in Berlin - pianist, composer, arranger, band leader and manager. Read more
Eyal Lovett Trio: "Tales from a forbidden Land". Lovett presents with his second album "Tales from a forbidden Land" a compilation of the imagery, that comes with promised and forbidden lands. "I am trying to explore my thoughts and feelings as an Israeli musician living in Berlin. It's about being far away from home while building a new one", Lovett says. "It's almost like a 'behind the scenes' of my own personal voyage."
It took his Trio - Kenneth Dahl Knudsen on bass and Aidan Lowe on drums - a double CD of 84 minutes to tell the "more complete story" of these feelings of love, disappointment, hope and nostalgia. Put in thirteen pieces of original material and some covers. "Every song has a different feeling", Lovett says. "For me it's Israel, but I am realizing that it could be many things. Music is such an abstract language, that everyone can put their own experiences inside, their own feelings, opinions and thoughts". He quotes the writer Amos Oz: "It doesn't matter, what it means to me, it matters what it means to you!"

Whilst on tour around Europe with the first album, "here and there new compositions were born", says Lovett. And then one day in Denmark he was driving by himself, looking at the blue sky thinking, "It's a good time for another album." It was bassist Knudsen who came up with an idea for the perfect feature:
Gilad Hekselman
. "I like having guests on recordings. It brings a fresh vibe to material that's a bit worn out. Especially if you're going to the studio after a long tour. I love Gilad's sound and musicality, and I knew he would push us forward to another level", says Lovett.
The album was released by Two Rivers Records, a British label, that focusses on contemporary music. Meanwhile the Eyal Lovett Trio is working on a new album.

Interview And Biography by Sophie Albers Ben Chamo