JAZZY EDUCATION - JAZZ TEACHERS BERLIN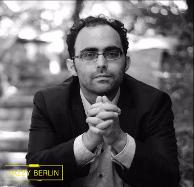 Eyal Lovett
Jazz pianist, Band leader, Teacher
Eyal Lovett Born - 12/4/81 Israel
Piano/ Improvisation/ Ear Training
at Prenzlauer Berg
Education

New School New York
Teaching: All levels
Teaching at: At his home
Experience

Teaching privately for 16 years, tutoring at the New School,
working with different music schools
Biography: Here
Languages
German, English, Hebrew

Band experience: I have a wide experience as a bandleader,
side man, composing, solo performance
Price for a lesson: 40€
All about Jazz Album Review: Tales From A Forbidden Land
Website: www.eyallovett.com
Sam Yahel, Hal Galper, George Cables, Omri Mor, Amit Golan,
Ofer Ganor, Dr. Bat Sheva Rubinstein, Rachel Feinstein and Sarah Tal
.
Jazzy Berlin Review: I was studying with Eyal for one year
and I can say one thing, Eyal have a deep love for teaching and
sharing his knowledge with me.
avi a.b.
Contact Eyal:
contact@eyallovettmusic.com
Piano Lessons
Proper Technique, sound production, correct movement of the fingers, wrist,
hand and arm, and the different methods to produce all the variety of sound
a piano can produce. Note reading, performance and interpretation of
compositions, analysis of the piece and understanding all the different
layers of it. Improvisation, harmony, theory - in general music and in genres -
jazz, folk, funk, blues etc. Jazz playing - from very traditional to very modern,
all aspects of jazz piano playing.