Berlin Musician Welcome Guide
to Berlin Jazz Scene
Jazz musicians become really famous after they die
.
When you finally come to the stage where you want to record your own music there are several options to do so in Berlin. If you are looking for a studio with a calm atmosphere, good equipment and the right people you might consider the LowSwing Studio. The studio is located in the middle of Berlin and can offer the best of analogue, digital, vintage and new equipment. Another alternative can be the legendary Hansa Studio which is well known among English performing musicians such as Nick Cave, David Bowie or Iggy Pop who made their recordings here. A team of first-class engineers and assistants will accompany you in the studio space that is flooded with daylight and equipped with classic analogue and digital equipment.

If you are looking for a low-cost recording One Million Mangosmight be the right catch. The OMM studio offers recording to either high resolution digital or to analogue tape. For recording, mixing or mastering at the studio, the price is charged per day (200€) and for mixing and mastering online, the price is charged per track (30€).
Among other highly recommended is also Audio Sound Arts which consists of two live rooms with daylight and one dead room. Depending on your project, you can also work other rooms as well, like the famous "Meistersaal" where a lot of top artists recorded (Kurt Tucholsky, U2, Herbert Grönemeyer etc.) and which is the oldest hall that survived the Second World War.
If you are up for a challenge there is also an option where you don't have to pay anything at all to record your jazz tones. Each year, the federal state of Berlin financially supports Berlin jazz bands and musicians with their Jazz Studio Project.
The Jazz Studio Project offers Berlin jazz bands and musicians with their own musical concept and professional approach the chance to have high quality recordings made in the recording studio of their choice.
The chosen recording studio does not have to be in Berlin, it could be a studio somewhere else in Germany or even, in some cases, abroad. The funding is provided only for the cost of using the studio, any other additional fees for the musicians or travel cost are not paid. If there is no specific deadline for submission, all applications should be submitted by the end of the year for the following year. Good luck!
Jazz Studio project
http://www.berlin.de/sen/kultur/foerderung/informationen/maininfo.html#K2
LowSwing Studio

Hansa Studio

One Million Mangos (OMM)

Audio Sound Arts

Other Recording Studios
Emil Berliner Studios

Hot Milk Studio

www.hotmilkstudio.de
Planet Earth Studios

www.planet-earth-recordings.com
Retox Studio

Tricone Studios


ext Task: Applications - Jazz Art foundations in Berlin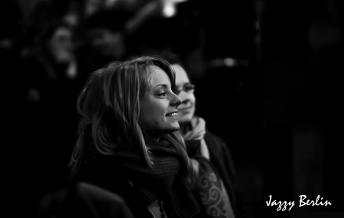 Photo: Jazzy Berlin Jam session at Katerholzig
Leave your observation