JAZZY EDUCATION - JAZZ TEACHERS BERLIN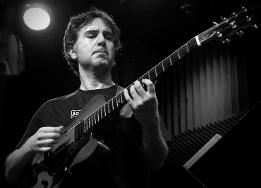 Jazz guitarist, composer, teacher
Hugo Fernandez - 25/09/71
Teaching: harmony, jazzguitar
at : Charlottenburg
Teaching at:
Education

Bachelor Degree Berklee College of Music, Master in Jazz Studies
University of New Orleans
Teaching: all levels

Experience

I've been teaching private lessons for 20 years and have been working with
different private schools in Mexico City and Madrid
Biography: Here
Languages
English, Spanish
Band experience: As a band leader, I have been recorded with my quartet
and quintet 3 studio albums. My CD "Cosmogram" feat. Antonio Sanchez (drums)
made the list of the "best albums in 2015" DOWNBEAT- Magazine
Price for a lesson: contact me via email please - hugofernandezmusic@gmail.com
Website: www.hugofernandez.net
Jon Damian, Steve Masakowski, Ed Tomassi, Greg Hopkins and manymasterclasses by Barry Harris, Pat Martino, John Abercrombie, Pat Metheny, Michael Brecker etc...
Contact Hugo:
hugofernandezmusic@gmail.com
more about my Guitar Lessons
Customized to the student, selecting the appropriate material/tunes to work with.Emphasis in getting the harmony underlined in basic jazz progressions. Gradually move to modal playing, advanced modal playing, harmonic substitutions, "intervalic cells shapes" soloing