JAZZY EDUCATION - LOCAL JAZZ TEACHERS BERLIN
JAZZ GUITAR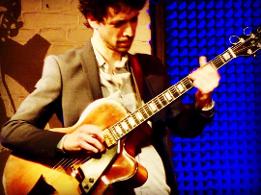 Jazz guitarist, composer, bandleader
Gur Liraz
Age 30, born in Israel
Teaching: Jazz guitar, improvisation, and theory.
at : Prenzlauer Berg
Education

Education: Thelma Yellin High School of the Arts jazz major (Tel Aviv),
Jerusalem music academy.
Teaching: Intermediate students
Teaching at: both at my place or at the students.
Experience

Teaching privately for about 10 years,
working privately and with different music schools
Biography: Here
Languages
Languages of teaching: English, German, Hebrew
Band experience: Leading my own Trio and Quartet as well
as vast experience as a sideman with various ensembles.
Price for a lesson: 40€
Website: www.gurliraz.webstarts.com
Peter Bernstein, Ofer Ganor, Yuval Cohen, Erez Bar-Noy, Amit Golan.
Contact Gur:
Contact Email: gurliraz@gmail.com
Jazz Guitar Lessons
Concentrating on jazz playing and improvisation: working on the technique
on the instrument, understanding of chord progressions and scales, stylistic
features, repertoire as well as note reading.