JAZZY EDUCATION - JAZZ TEACHERS BERLIN
JAZZ GUITAR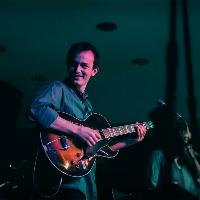 Jazz guitarist, composer, bandleader, educator
Filipe Duarte
Age 30, born in Lisbon
Teaching: Guitar / Improvisation / Ear Training / Composition
at : Kreuzberg
Education

The New School for Jazz & Contemporary Music
Teaching: all levels
Teaching at: Home
Experience

Teaching privately for about 8 years,
working privately and with different music schools (first in Lisbon,
then New York, now Berlin)
Biography: Here
Languages
English, Portuguese, basic German
Band experience: I have a wide experience as a bandleader and composer,
having led my own trio for a long time, my NY sextet, and presently my
brand new quartet project. I have also worked a lot as a side man and
I have a solo project almost ready to launch.
Price for a lesson: 35€
Website: www.filipeduartemusic.com
Ben Street, Peter Bernstein, Mike Moreno, Vic Juris, Reggie Workman, Jane Ira Bloom, Carlos Bica
Contact Filipe:
filipe.musician@gmail.com
Jazz Guitar Lessons
Exercises to improve your guitar technique, sound and projection.
Jazz harmony, improvisation and melody interpretation.
Ear training and ways it can affect your playing.
Melodic and harmonic sight-reading.
Time-feel improvement.
Lessons are tailored according to each student's specific needs and
goals. All levels and ages are welcome.