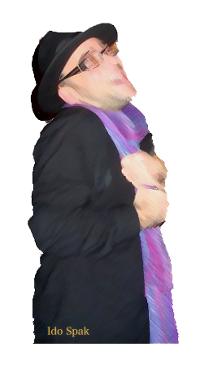 About my jazz journey:
I'm a composer, arranger and I play piano.I concentrate on Jazz-Fusion with the influence of classical techniques and middle eastern music.
I wish to bring new things to Jazz and combine new rhythms and new ways of improvisation.
I write music for films, I experienced as a music director in theatres
.
My first station - Israel
I started my journey in Israel 20 years ago, trying to learn to play the guitar. It didn't work well, my friend told me that I'm not a good guitar player and that I should try a different instrument.. I did.
My neighbor above me
in The Netherlands
At my next stop I started to study conducting in the Netherlands. And here, more than the music, the language was my big difficulty. In order to deal with this challenge, I translated all of Yehuda Amichais poems, late in the evenings in my small apartment. I had to practice piano with headphones on not to disturb my neighbours, because the school didn't have enough pianos to practice on. Those were crazy days and nights for me, I decided to leave...
The story behind the tune Ad Lo Yada means in Hebrew "until didn't know". It talks about the tradition of celebrating until one forget himself. This celebration is in Purim, a holiday that commemorates the victory of the Jews under the Persian empire against their enemy, Haman, and his retainers, who wanted to exterminate the Jews under the rule of king Assures.