Advice from Alfred Lion
By Avi Albers Ben Chamo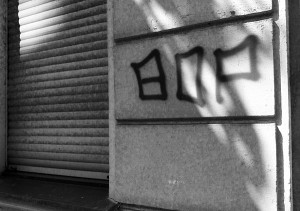 The day I went to visit Mr. Alfred. It was a summery friday morning in Berlin. I needed to breathe a little, so I took my bag, my sunglasses, and went to visit Alfred Lion. Maybe he will show me the way. Alfred Lion is an almost unknown person, because he had always been the man in the background. Alfred Lion founded the Blue Note label in New York in 1939. It's the most famous label for jazz music in the world. Blue Note Records was not only discovering and producing artists like Thelonious Monk, Art Blakey or Miles Davis. It was a label, that always put the personal artistic idea first. To sell records came second. Blue Note Records was an inspiration for a lot of people.
And in this moment I feel the urge to go and see Lion's birth place, which is right in the middle of Berlin, in Schöneberg, and to say thank you for his inspiration. Maybe even to get a wise word from him, something simple, that could end the never ending conflict in my head. I reach Gotenstrasse number 7, and there is no sign on the wall as a reminder of Lion's legacy.
The street is almost empty. A bicycle repair guy is waiting for customers, that aren't coming, and next door three smiling girls are carrying furniture up to their apartment. I am very curious to know, if someone had known Alfred Lion, who left Berlin in 1933. The woman from the costume shop says, she doesn't know anything about him, but I should ask Marion who works in the kindergarten. Marion comes out and tells me to wait for her husband. He would know something. Finally Mr. Lewalter comes out smiling. He suggests, that we go for a cup of coffee. Then he would tell me everything he knows. At the nearby and nice coffee bar I find out, that Mr. Lewalter is a jazz musician himself, a contrabass player, and that he moved to Gotenstrasse 7 without knowing, that his hero was once living here too. "It was my landlord, who told me that", he says. Young Alfred was living on the second floor. "What did you say?", I ask? Mr. Lewalter's face turns into a big smile. "Destiny", he says.
Mr. Lewalter was also editing the German Wikipedia entry on Alfred Lion. And soon, he tells me, he and his sweet family will move to the upper floor, right into Alfred Lion's apartment. I ask Mr. Lewalter, if he thinks, that Alfred would be happy, that there is no sign with his name on in Gotenstrasse 7, and we both agree, that Lion probably doesn't need a sign on the wall, because his legacy lives in the records he did. I say thank you to the waitress, who told me, that Marlene Dietrich used to sing in this bar a long time ago before I was born. And I thank Mr. Lewalter, who tells me, that Willy Brandt used to sit here, hiding from the crowd, drinking his special drink, and then I go my way. I feel less shitty, I mean I feel better. I found Alfred Lion, and I took his advice, to keep on doing my thing, even if people think, that I'm weird, and always to look for the true voice of a person. Thank you Mr. Lewalter, thank you, Alfred Lion.