JAZZY EDUCATION - JAZZ TEACHERS BERLIN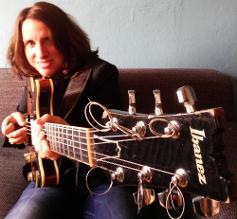 Tina Jäckel Born -15/12/73
Teaching: jazzguitar ->improvisation, comping, music theory
at : Friedrichshain
Education

Bachelor Degree Conservatorium van Amsterdam
Teaching: all levels
Experience

I´ve been teaching private lessons for 25 years and have been working
with different private schools.
Biography: Here
Languages
German, English

Band experience: I have a wide experience as a bandleader and side man.
At the moment I´m working on a solo program.
Price for a lesson: 50€
Website: www.tinajaeckel.com
Peter Bernstein, Jon Damian, Maarten von der Grinten, Jesse van Ruller
Jazzy Berlin Review: I had the chance to watch and listen Tina playing
in local Jam sessions. She has a clear beautiful tone and her first album is
one I cannot forget. Other then that, Tina is a very friendly person.
avi a.b.
Contact Tina:
tinajaeckel@tinajaeckel.com

Jazz Guitar Lessons
My teaching is a mixture of following the wishes of my students and
making sure that the basics are covered. How to navigate the fretboard,
how to count rhythms and how to transcribe.
In the first lessons we develop a practice plan and make sure that your
goals are clear and reachable.