JAZZY EDUCATION - JAZZ TEACHERS BERLIN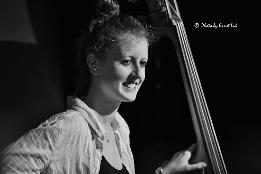 Live performance:
Roz MacDonald playing with Our Delight
Roz Macdonald - age 26 from Scotland
Teaching: Double bass / Bass guitar / Theory / Ear Training
at : Friedrichshain
Warschauer Str / Student's home
Education

Leeds College of Music
Teaching: all levels
Experience

Teaching privately for 5 years, working in music
centres and private students
Biography: Here
Languages
English

Band experience: I have a wide experience a band leader, composer and side-woman.
Price for a lesson: 25 Euros/ Hour , 30 Euros/ Hour at student's home.
Website: www.rozm52.wixsite.com/mysite
Drew Gress, Doug Weiss, Zoltan Dekany, Greg Cohen, Marc Muellbauer, Ivo Neame.
Contact Roze:

rozmacdonaldmusic@gmail.com
Bass Lessons
Depending on the student's needs I cover a wide area of music including proper technique, sound production, note reading, performance practice, theory and harmony. I cover a wide range of styles including jazz (traditional to modern), pop, folk, funk, blues etc. This could be for fun or working towards exams. My goal is to make sure the lessons are relaxed and enjoyable while encouraging my students to achieve their goals.